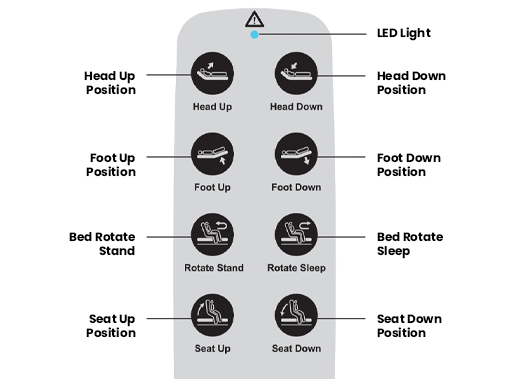 UPbed Independence 4-in-1 Lift Chair/Bed Features:
Sit-up bed - Great for reading, watching TV and resting, all while your body is fully supported so you can relax in comfort.

Chair bed - For everything you would normally do in a comfy chair, such as crafting, eating, visiting with friends and family, playing cards…the UPbed Independence turns 90° in either direction, ensuring a perfect fit in any bedroom configuration. And there are two guardrails (removable, adjustable and cushioned) that transform into supportive armrests when bed is in the "chair" position.

Lift bed - It rotates you gracefully to a sitting position, either left or right, and you can lower it to a position closer to the floor to stand up, or you can use the lift-chair function to make getting up and out of bed even easier. Either way you can plant your feet safely on the floor and you're ready to go!

Good old-fashioned sleep bed—you get it all-in-one comfy package.
Lifts and rotates 90° to the left or right — smoothly and gently — so you can more easily get in and out of bed.
"7-inch memory foam mattress:

The mattress provides heat-sensitive support for a good night's rest. It conforms to your body, prevents sinking, and keeps its original shape for decades.

Twin XL 80" Size is "26 inches from floor to top of mattress in prone/supine position

Standard Twin 74" is 22.5" inches

from floor to top of mattress in prone/supine position

Engineered for comfort:

A sturdy metal aircraft-grade frame and two separate, independently controlled motors help raise and lower your UPbed silently.

Safe and easy to handle:

The UPbed Independence comes with a motion-sensitive, under-bed safety light and an easy-to-use remote

Smooth, gentle adjustments & rotation

Back & knees raise/lower independently

Comes with premium Memory Foam mattress

Includes two USB power outlets at base

Motion-sensitive underbed safety light

Intuitive, easy-to-use remote

UPbed Weight Capacity: 500 lbs.